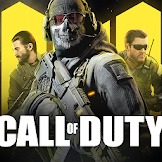 About This Club
Call of Duty: Mobile is a free-to-play first-person shooter game developed by TiMi Studios and published by Activision for Android and iOS. It was released on October 1, 2019. In its first month, the game had over 148 million downloads and generated nearly US$54 million in revenue, making it the largest mobile game launch in history.
---
What's new in this club

Very addictive game when you have the odd minutes to play. Controls can be tricky but overall experience is great. Reminds me of COD days

Great mobile game, maybe one of the best. Like it a lot. IOS or Android or both!